Astronomy Picture of the Day
Discover the cosmos! Each day we feature a different image or photograph of our fascinating universe, along with a brief explanation written by a professional astronomer.
August 13, 1995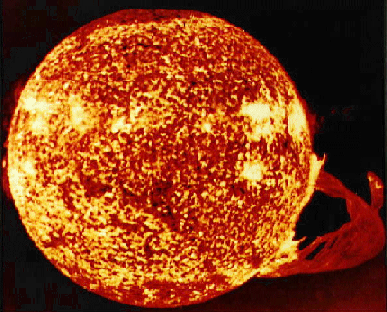 The Sun Erupts
Credit: NASA, Skylab
Explanation: The sun was captured in 1973 throwing one of the largest eruptive prominences ever recorded. Sol, our sun, is a normal star. It formed about 5 billion years ago, and will last about another 5 billion years. The sun will never explode, and a solar flare will never destroy the earth. Eventually the sun will become a white dwarf star. The sun is made of mostly hydrogen and helium. The sun's center is so hot that when hydrogen nuclei collide, they stick together and release energy - a process called nuclear fusion No one knows why the center of the sun emits so few neutrinos.
Tomorrow's picture: Mercury: Closest Planet to the Sun
---
| Chronological Archive | Subject Sorted Archive | Glossary | Educational Links
---
Astronomy Picture of the Day (TM) is created and copyrighted in 1995 by Robert Nemiroff and Jerry Bonnell who are solely responsible for its content.


We are proud to acknowledge that an external review by Point Communications has rated Astronomy Picture of the Day in the top 5 percent of all World Wide Web sites.