Astronomy Picture of the Day
Discover the cosmos! Each day we feature a different image or photograph of our fascinating universe, along with a brief explanation written by a professional astronomer.
August 16, 1995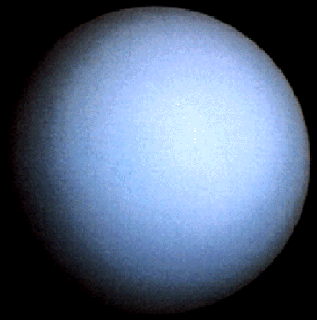 Uranus: The Tilted Planet
Credit: NASA, Voyager 2
Explanation: This picture was snapped by the Voyager 2 spacecraft in 1986 - the only spacecraft ever to visit Uranus. Uranus is the third largest planet after Jupiter and Saturn. Uranus has many moons and a ring system. Uranus is composed mostly of liquid water, methane and ammonia, surrounded by a thick gas atmosphere of mostly hydrogen and helium. Uranus is peculiar in that its rotation axis is greatly tilted and sometimes points near the sun. It remains an astronomical mystery why Uranus' axis is so tilted. Uranus and Neptune are very similar.
Tomorrow's picture: Neptune: Big Blue Giant
---
| Chronological Archive | Subject Sorted Archive | Glossary | Educational Links
---
Astronomy Picture of the Day (TM) is created and copyrighted in 1995 by Robert Nemiroff and Jerry Bonnell who are solely responsible for its content.


We are proud to acknowledge that an external review by Point Communications has rated Astronomy Picture of the Day in the top 5 percent of all World Wide Web sites.