Astronomy Picture of the Day
Discover the cosmos! Each day we feature a different image or photograph of our fascinating universe, along with a brief explanation written by a professional astronomer.
September 9, 1995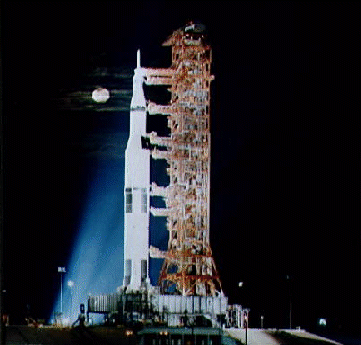 The Last Moon Shot
Credit: NASA, The Apollo Program

Explanation: In 1865 Jules Verne predicted the invention of a space capsule that could carry people. In his science fiction story "From the Earth to the Moon", he outlined his vision of constructing a cannon in Florida so powerful that it could shoot a "Projectile-Vehicle" carrying three adventurers to the Moon. Over 100 years later, NASA, guided by Wernher Von Braun's vision, produced the Saturn V rocket. This rocket turned Verne's fiction into fact, launching 9 Apollo Lunar missions and allowing 12 astronauts to walk on the Moon. Pictured above is the last moon shot, Apollo 17, awaiting a night launch in December of 1972. Spot lights play on the rocket and launch pad while the full Moon looms in the background. Humans have not walked on the lunar surface since. Should we return to the Moon?
Tomorrow's picture: White Dwarfs Cool
---
| Chronological Archive | Subject Sorted Archive | Glossary | Educational Links
---
Astronomy Picture of the Day (TM) is created and copyrighted in 1995 by Robert Nemiroff and Jerry Bonnell who are solely responsible for its content.


We are proud to acknowledge that an external review by Point Communications has rated Astronomy Picture of the Day in the top 5 percent of all World Wide Web sites.