Astronomy Picture of the Day
Discover the cosmos! Each day we feature a different image or photograph of our fascinating universe, along with a brief explanation written by a professional astronomer.
August 18, 1995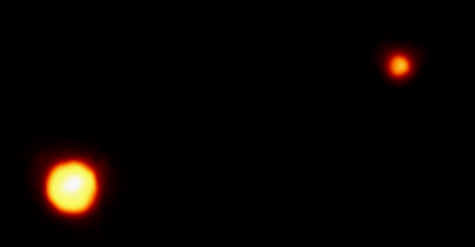 Pluto: The Frozen Planet
Credit: NASA, Hubble Space Telescope, R. Albrecht (ESA/ESO)
Explanation: The Hubble Space Telescope imaged Pluto and its moon Charon in 1994. Pluto is usually the most distant planet from the Sun but because of its elliptic orbit Pluto crossed inside of Neptune's orbit in 1979 and will cross back out again in 1999. Compared to the other planets, very little is known about Pluto. Pluto is smaller than any other planet and even smaller than several other planet's moons. From Pluto, the Sun is just a tiny point of light. Pluto is probably composed of frozen rock and ice, much like Neptune's moon Triton. Pluto has not yet been visited by a spacecraft, but a mission is being planned for the next decade.
Tomorrow's picture: Our Solar System from Voyager
---
| Chronological Archive | Subject Sorted Archive | Glossary | Educational Links
---
Astronomy Picture of the Day (TM) is created and copyrighted in 1995 by Robert Nemiroff and Jerry Bonnell who are solely responsible for its content.


We are proud to acknowledge that an external review by Point Communications has rated Astronomy Picture of the Day in the top 5 percent of all World Wide Web sites.